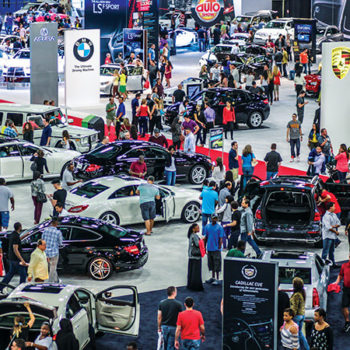 Miami International Auto Show
BEHIND THE WHEEL OF THE MIAMI INTERNATIONAL AUTO SHOW
The SFADA has served its members since 1933 in one of America's fastest growing car markets. Our thriving corner of the Sunshine State accounts for one-third of all new car sales in Florida, while Florida ranks behind only California and Texas as top state producer.
This tip of America's prosperous peninsula is also the front door to Latin America and the Caribbean. We enjoy a cultural impact that adds not only luster and excitement to an already-exciting industry, but also provides for one of the fastest growing segments of the population's Hispanic drivers.
Proud to present the Miami International Auto Show, the association invites the public to learn more about its services and activities.
Fort Lauderdale International Autoshow
BEHIND THE WHEEL OF THE FT LAUDERDALE INTERNATIONAL AUTO SHOW
Located in the Greater Fort Lauderdale – Broward County Convention Center -the Fort Lauderdale International Auto Show benefits the Boys and Girls Clubs of Broward County. Now in its 28th year, one of the Ft Lauderdale Show unique features is how the public has the opportunity to test ride popular cars and trucks and to meet with dealers and discuss price and terms right there on the show floor. Featuring more than 500 of the world's leading cars, trucks, SUVs, and motorcycles, the Ft Lauderdale International Auto Show has become one of the most popular "shopping shows" in the region.
Annual Gala
Our yearly Gala is an exclusive celebration for all of our members. This year the South Florida Automobile Dealers Association will be hosting a CASINO Gala with an evening of Casino Gambling, Dinning and Dancing at the Ritz Carlton Ft Lauderdale.
Friday, December 7th, 2018 – Tickets can not be purchased this is an invite only event.